Housing Agent
Moving to a foreign country is an exciting adventure until you need somewhere to live and find yourself on the phone with a Spanish real estate agent who speaks 100 miles per hour! Temporary accommodation is usually the best option if you are moving to Madrid from another country.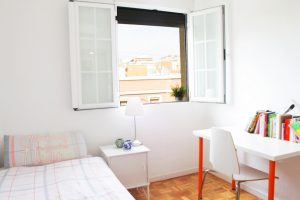 This is our reasoning:
You don't know Madrid—the different barrios around Madrid all have their own personality and you won't know what you like until you experience them.
You probably don't know anyone so you don't know where your future best friend will live, or whether you could get a flat together!
You don't know where you'll be working. If you get a job in a school or company in the north of Madrid and your apartment is in the south, then your mornings will suck. Once you have your jobs in place, you can plan your ideal location accordingly.
To this end, we have adjusted our prices for a two-month let. This gives you time to arrive for a few days before the course, do the course with stability, then get your jobs sorted and finally spend the last few weeks looking for your new apartment with your new amigos from the course (you will need to do extensive drinking outside in the plazas—in the name of research of course!)